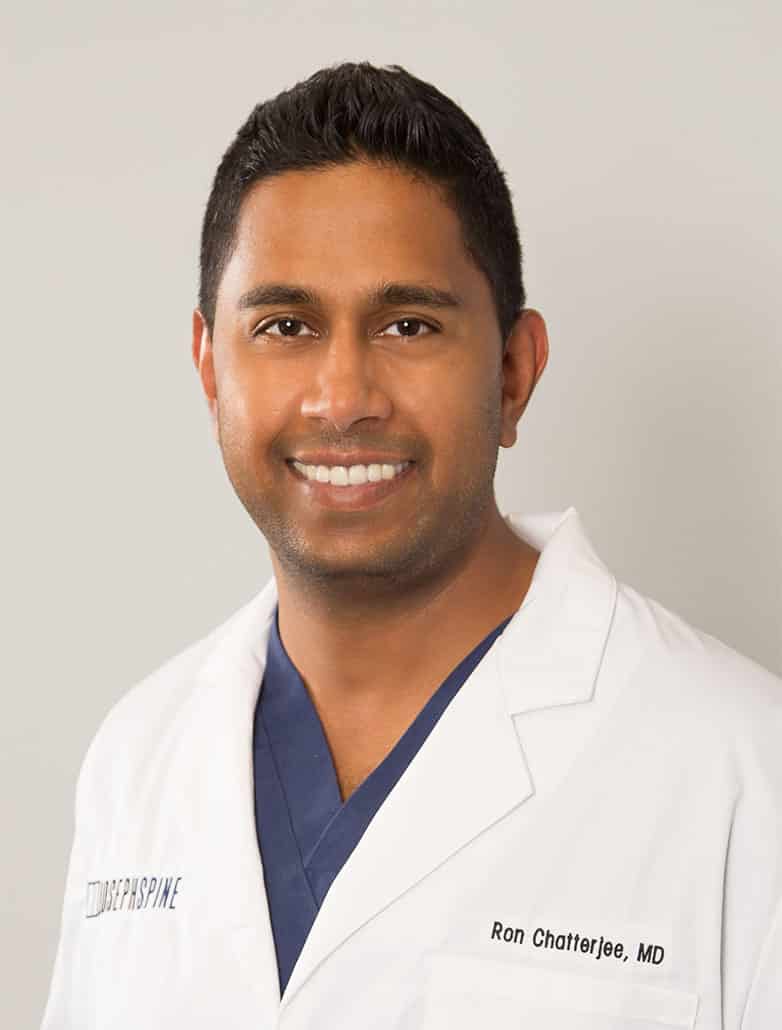 DR. RON CHATTERJEE
Board Certified Physical Medicine
MEDICAL EDUCATION
Dr. Ron Chatterjee was accepted into the highly sought-after and competitive BS/MD program right after high school. He received his Bachelor's of Science Degree at Kent State University. Dr. Chatterjee studied abroad at Leicester University in Leicester, England after leaving Kent State and before his medical doctorate program began. He then proceeded to Northeastern Ohio Universities College of Medicine (now called Northeast Ohio Medical University) where he completed his medical degree.Dr. Chatterjee went on to a transitional year internship at St. Elizabeth's Hospital in Youngstown, Ohio.
He completed his residency in Physical Medicine and Rehabilitation at UT Southwestern Medical Center in Dallas, Texas. Dr. Chatterjee was fellowship trained in Interventional Pain, Spine and Sports Medicine at Ahwatukee Sports and Spine in Phoenix, Arizona.
PRACTICE
Dr. Chatterjee specializes in diagnosing and treating acute and chronic pain syndromes through a variety of techniques. His goal is to quickly relieve pain and restore function to his patients. From the training he received, his focus is on pain originating from the spine and affecting any part of the body, although he has a strong ability to assess all types of pain and distinguishing its source. He also has expertise in the management of sports-related injuries and has been the team physician for high school football and independent professional baseball teams, along with working with the Tampa Bay Buccaneers. His education in physical medicine and rehabilitation has allowed him to help patients successfully improve their quality of life and be as independent as possible through multiple modalities. Dr. Chatterjee is a physician that will always spend extra time with patients making sure their problems are addressed and ensuring they receive the best care available. He is up-to-date with all current treatments including regenerative and stem cell treatments. Dr. Chatterjee is not only interested in improving your current pain and disability, but also your long-term health through a comprehensive, multidisciplinary and holistic approach.
TEAM PHYSICIAN TO THE TAMPA BAY BUCCANEERS
Dr. Ron Chatterjee, a highly experienced, board-certified physical medicine and rehabilitation physician has been chosen to serve as a team physician for the Tampa Bay Buccaneers for the 2019 season. He joins Dr. Samuel Joseph, founder of Joseph Spine Institute, on the field who is now entering his 3rd season with the Bucs.
As a board-certified physician in physical medicine and rehabilitation with a sub-specialty in interventional pain, spine, and sports medicine Dr. Chatterjee brings a unique and multidisciplinary skillset to the team. Chatterjee is highly trained in the treatment and prevention of sports and exercise-related injuries and improving performance.
ASSOCIATIONS & COMMUNITY
Dr. Chatterjee is a member of the Spine Intervention Society, American Academy of Physical Medicine
and Rehabilitation, North American Spine Society, American Medical Association, and Florida Medical Society. He has participated in national conventions for standards, improvement, and research of spine care