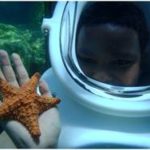 Elijah loves dolphins, so he knew that he wanted his wish to be swimming with dolphins at Discovery Cove. Elijah's excitement was obvious; though usually a quiet boy of few words, he just couldn't stop talking about his plans for his dolphin adventure. What Elijah didn't know was that there was far more in store for him than just swimming with dolphins.
To kick off Elijah's wish, he enjoyed a going away party at his favorite restaurant, Pizza Hut, before heading to Discovery Cove in Orlando, FL. As part of the experience, Elijah got to feed, hug and swim with dolphins. He even had the opportunity to hang onto their fins while they did a bit of speed swimming!
After his exciting day at Discovery Cove, Elijah headed over to Sea World where he took an Elite VIP tour and fed sea lions. He even went to Sea World's water park, Aquatica, where he swam and played to his heart's content. A trip to Orlando isn't complete without a visit to Disney; so Elijah and his family spent a day at the enchanting and legendary theme park, Walt Disney World.
According to Elijah, his wish was "awesome"! This once-in-a-lifetime experience will hold a special place in Elijah's heart for years to come.